« The Vaud brioche with a glass of chasselas! »
You will have understood: we are going to talk about simple and effective recipes that make our daily lives easier.
So get your ovens ready, today we start with the brioche vaudoise, simply because this traditional Vaud dish pleases everyone and it would be wrong to deprive ourselves of it! Well, for the brioche, you have all the cards in your hand, but then for the wine… One production site in Morges, another in Féchy, or in Aubonne. So how do you choose?
Well, the perfect marriage is the one you like, in any case, we can advise you to choose a Chasselas or a Pinot Gris with this brioche. And if you prefer a red wine, then a Pinot Noir or a Gamaret. If you have any doubts in your choice, it is not out of the question to go to the winegrowers of La Côte to taste directly and ask for advice. To do so, opt for a tasting with our Wine Tasting Pass, which you can purchase by clicking here. The Wine Tasting pass allows you to taste 6 wines for CHF 15 at your leisure and at the winegrower of your choice!
The Vaud brioche, simple and effective! :
Recipe for 12 people – preparation time : 20min
Leaven ingredients :
5g yeast,
1dl cold milk,
100g flour
Dough ingredients :
150g melted butter,
4 eggs,
400g flour,
1cc salt,
1cs to 2cs cumin (optional),
200g cubed gruyère cheese.
Recipe:
Mix the sourdough ingredients and leave to rise for a few hours. Then mix all the other ingredients with the leaven.
Leave to rise for 2 hours. Pour the dough, which should not be too thick, into a cake tin.
Bake for 30 to 40 minutes in the preheated oven at 200°C.
Our pleasure suggestion!  Serve lukewarm, the Vaud spit will be particularly tasty!
Pairings: Chasselas, Pinot Gris, Pinot Noir, Gamaret.
Nos dernières actualités
Discover the winners of La Côte Wines at the Grand Prix du Vin Suisse! A magnificent 2nd place for the Sarraux-Dessous estate with its Chasselas!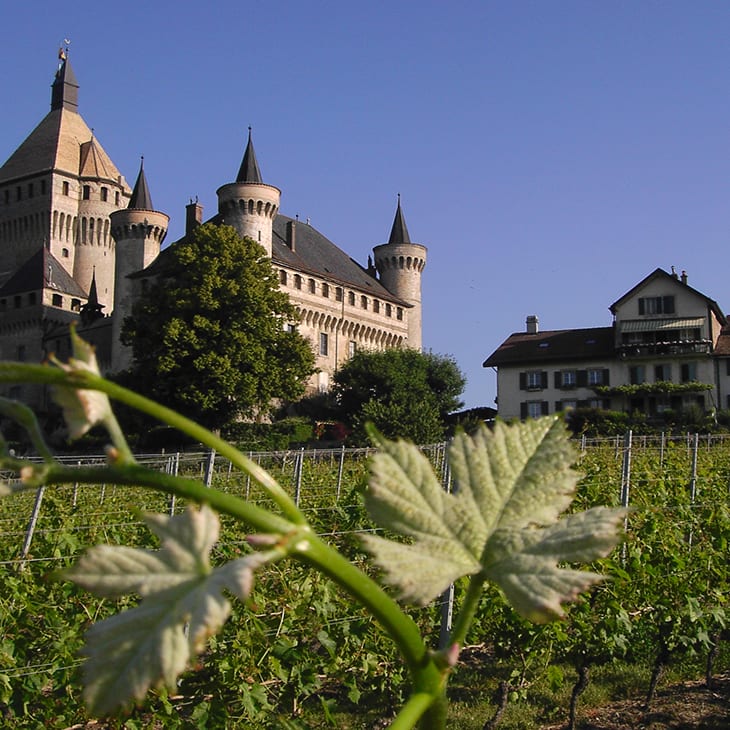 Meeting with Solange Perey, from Vins Perey de l'AOC Morges!